With the increasing visual needs of users today, major manufacturers have gradually shifted their focus from the original hardware to software in pursuit of smoother and more comfortable animation transitions. For years, it seems that in the global smartphone market, only iOS has mastered the essence of animation transition. But the times are always changing. Now with the rapid rise of other manufacturers, the ColorOS 7 quantum animation engine is born, it seems that the situation is no longer a stand-alone one-man show. What is the effect of the update? Know at a glance.
How does Quantum's quantum animation engine perform? We can feel it directly from these animation performances of ColorOS 7.
#1. Charging Animation
ColorOS 7 adds a "siphon" effect to the original "particleized" charging animation, which globally simulates the "energy draw" type of special effects, which instantly brings users a very technologically dynamic animation experience. Compared with the bland charging effect of iOS, ColorOS 7 depicts the design creativity of the technology era.

#2. Return to home
Combining the above dynamic performance effects of ColorOS 7, we can see that, whether, in terms of fluency or design creativity, ColorOS 7 is full of interactive spirituality, and the animation of excessive animation is stronger. Compared to iOS, ColorOS has a very representative sense of creativity, and judging from the current development trend of ColorOS, in the future, it may have a significant positive effect on user performance.

#3. Weather Animation
Weather animation originally lacked "live" weather. Under the dynamic display of ColorOS 7 weather animation, the scene performance is more vivid and the interaction with the user is more dynamic.
Of course, the optimization of the software will amplify better performance effects with the support of hardware. If you hold Reno Ace, under the magnification effect of the 90Hz refresh rate screen, the motion of ColorOS 7 will obviously surpass iOS13 in some details, and it will be more technological and smart.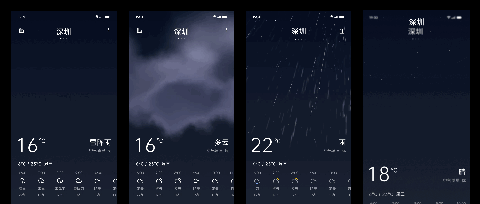 #4.
Slide animation
The updated ColorOS 7 adds a "rebound" motion trajectory when the list is swiped. This movement seems to follow the user's operation gestures, and it can more flexibly show a kind of operation and interactive movement.

Of course, the other parts are very comfortable in both touch and look after adding the engine.
At present, in addition to strengthening the follow-up efforts in terms of hardware for domestic mobile phones, the software effect is also constantly improving. The domestic OS system represented by ColorOS is believed to be better and better and may have even better performance in the future.
Here's the list of Realme devices that will get the ColorOS 7 [Updated]
Here's the list of Oppo devices that will get the ColorOS 7 [Updated]
For The Latest Activities And News Follow Our Social Media Handles: