OPPO Reno 2 ColorOS 7 trial version new batch is starting for early adopters. The ColorOS 7 update brings the system-wide Dark Mode and is designed to support all the core Android 10 features. Recently, OPPO Reno, Reno 10X Zoom, R17, F11 series, and OPPO A9 got ColorOS 7 beta and OPPO Reno 2 ColorOS 7 Beta program is now available.
NOTE: This ColorOS 7 trail version now expands available for India, Indonesia, Vietnam, and Thailand.
Here's the list of Oppo devices that will get the ColorOS 7
OPPO Reno 2 ColorOS 7 Trial 5th Batch
Dear ColorOS Superfans, The long-awaited 6th batch of Reno 2 ColorOS 7 + Android 10 Trial VersionProgram finally kicks off. If you want to try the trial version, submit your application. A quota of 40,000 users is set for the 5th batch application. So hurry up & don't miss it.
How to Register OPPO Reno 2 ColorOS 7 Beta Program
For Official Version Users:
Please make sure that you are updated to the latest official version of Reno 2.
How do I apply for trial use as a user of the previous official version?
Gp to "Settings> Software Updates"> tap the settings icon in the upper right corner> tap "Trial Version", fill in the information, select the must-know checkbox, and tap "Apply Now"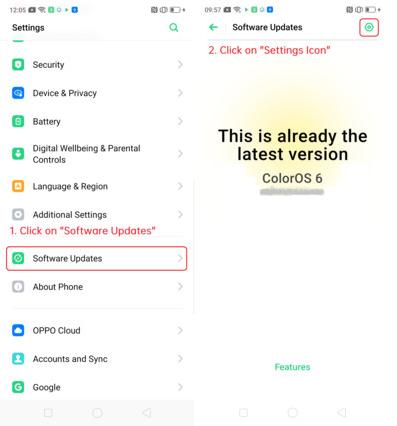 If the application quota is full, please wait for the next round. The final interpretation rights of ColorOS Trial Version Testing activity is solely owned by ColorOS.
This trail version aims at functional testing and may be unstable, but user requirements can be basically met. YOu may encounter some bugs and are expected to report these bugs to us to help us solve these problems.
If you are a tech enthusiast and would like to experience new features, apply for the trial. If you expect a stable and smooth experience, wait until the official version comes out.
If you encounter any problem when using the trial version, report them in the ColorOS Community App. Open the app, tap the edit icon at the bottom of the Home Screen, and Tap Feedback, Alternatively, contact the customer service center directly.
Recommended Updates:
Your system will be upgraded to ColorOS 7 and Android 10. Borderless visuals bring a lighter feel and a smooth experience.
What's new in ColorOS 7 Changelog based on Android 10
The final interpretation rights of ColorOS Trail Version Testing activity is solely owned by the ColorOS.
For The Latest Activities And News Follow Our Social Media Handles: