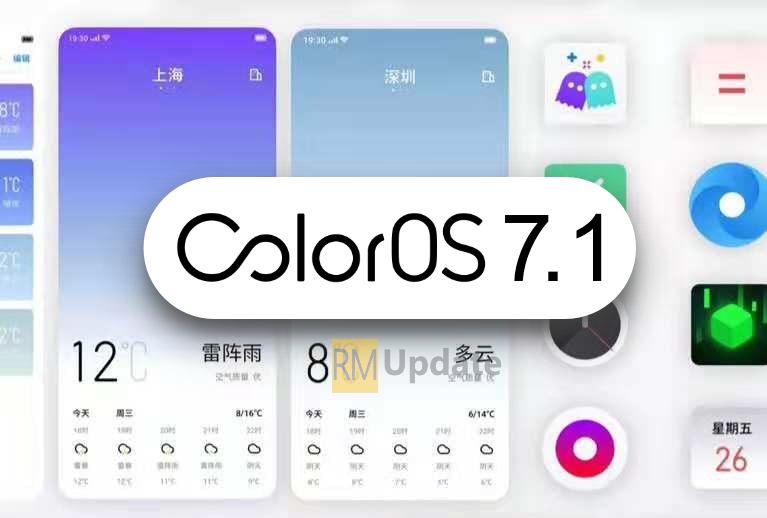 OPPO has officially unveiled Find X2 series and Ace2 with its new ColorOS 7.1 UI based on Android 10. Many users want t know about ColorOS 7.1 version but OPPO's top flagship operating system, ColorOS 7.1 is obviously not just as simple as the version number plus "0.1". it turns out to be true. Today's in this article we will talk about ColorOS 7.1 Features and more.
ColorOS 7.1 Features
ColorOS 7.1 has brought major upgrades, O1 super-sensitive image quality engine, Live HDR video shooting, AI adaptive eye protection function Have a better experience.
1. Live HDR video shooting
Backlit is the most feared when shooting video with the mobile phone, and with the Live HDR video shooting function of ColorOS 7.1, we can effectively solve the problem of the too dark foreground or overexposed backlit scene when shooting video, even ordinary Little white users can also make movie-quality videos.
2. 

O1 Super Sensitive Image Engine
We all know that the Find X2 series is equipped with a super-sensitive screen with a refresh rate of 120Hz, but in reality, many contents cannot reach 120fps, and many only have 30fps. And through ColorOS 7.1's O1 super-sensitive image quality engine, you can increase the content of 30fps to 60fps or even 120fps, so that when we watch the video, the picture will be smoother.
3. AI adaptive eye protection
Of course, ColorOS 7.1 not only fully supports the Find X2 series in display effects but also brings intimate AI adaptive eye protection. The mobile phone screen can automatically adjust parameters such as color temperature and brightness according to the environment, giving us a more comfortable look and feel. Experience and pamper our eyes.
4. Super Text
During the shooting process, ColorOS 7.1 will automatically calculate and mark the edge of the document, provide document correction, enhancement, and text extraction for the user body. It also supports the conversion of documents such as DOC and PPT, and can directly edit the extracted content to provide users a One-stop service.
5. One Hand Mode
The OPPO Find X2 Pro is a huge smartphone, so using it one-handed isn't really possible for most people. Thankfully, the one-handed mode in ColorOS 7.1 makes it possible. Once activated, the screen shrinks to the bottom left or right corner, dramatically reducing how far you have to stretch your thumb to tap on the screen. Unlike other one-handed mode features, you won't accidentally leave this mode by tapping outside of the shrunken area – OPPO disabled that. However, the only way to toggle one-handed mode is via a Quick Setting tile, which kind of defeats the purpose since accessing Quick Settings is difficult to do with only one hand.
Also read,
Here is the ColorOS 8 eligible device list 
These Android 11 features will be seen in ColorOS 8
For The Latest Activities And News Follow Our Social Media Handles: