Realme has begun its new skin Realme UI 2.0 for several Realme smartphone users, and some users also waiting for the update but the company wants to give a very good experience to users, so this update has just been rolled out for a few users and it is gradually moving forward. The Android 11-based Realme UI 2.0 will be available with multiple old Realme handsets in India.
The Realme UI 2.0 skin adds several new features like AOD customizations, 3 styles of dark mode, new privacy, change accent colors, and more. And today we will talk about the wallpaper customization feature of Realme 2.0, which some people may have used but still many do not know about it.
If you have been bored by using the default wallpaper of Realme, then Realme UI 2.0 allows you to create new wallpapers that you can easily create and apply on home and lock screens.
If you are using Realme UI 2.0 and got the Realme smartphone, this post will help you get started in making the most of its customization feature. Here's a quick guide on how to create colorful wallpapers in Realme UI 2.0 for the Home and Lock screen.
Realme UI 2.0: How to create colorful wallpapers
Open the Settings.
Tap on Personalisations.
Tap on Wallpapers.
Now go into Local Album to select a new image to create new wallpapers.
Choose an Image.
Now you will see a Blob icon at the bottom before Apply button.
Tap on it and wait for 2-3 seconds.
The AI create 7 wallpapers as per your choose image.
Now select a wallpaper and tap on the Set Wallpaper button and apply it to the Home or Lock Screen.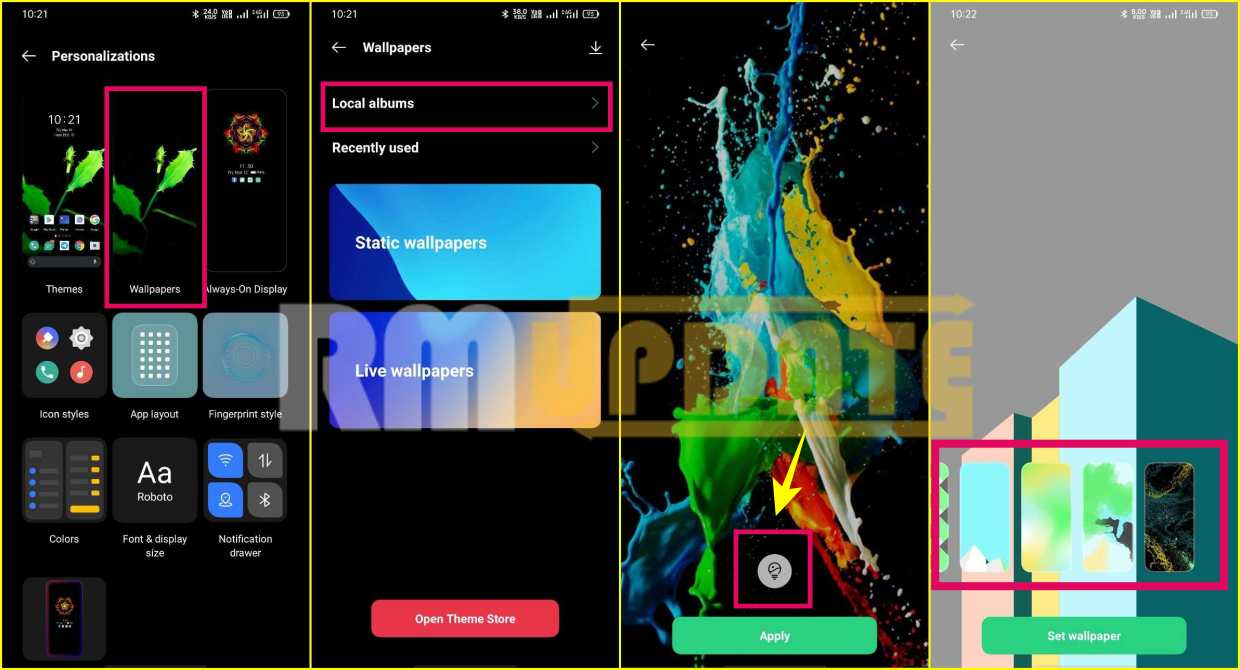 Note: These features only work on Android 11-based Realme UI 2.0 smartphone users. Those using Realme UI 1.0 based on Android 10 will not be able to use these features.
Realme UI 2.0 Tips and Tricks
Realme UI 2.0: How to use and customize new Always-On Display [Full Guide]
Realme UI 2.0: How to Customize or Enable New Dark Mode [Tips and Tricks]
How to turn on Pocket Mode in Realme UI 2.0
Realme UI 2.0 Brings System Cloner New Privacy Feature [How to guide]
If you like this article follow us on Google News, Facebook, Telegram, and Twitter. We will keep bringing you such articles.