Realme UI 2.0 version officially released last year with Android 11. It is inspired by OPPO's ColorOS 11. Oppo launched ColorOS 11, although both the UI looks similar, as Realme is considered as a sub-brand of Oppo and before Realme UI all devices ran on Oppo's ColorOS. Realme launched Realme UI 2.0 after the launch of ColorOS 11. Read more Realme UI 2.0: How to use/turn on chat bubble notification WhatsApp, Telegram, Signal
The latest Android 11 brings system-wide chat bubbles, smarter notification controls, a comprehensive music control in the notification shade, and smart home shortcuts inside the power button menu. Additionally, Realme UI 2.0 brings several new features such as customizable AOD, three style dark mode, and more. Read more Realme UI 2.0 Brings System Cloner New Privacy Feature [How to guide]
Realme UI 2.0 Sleep Capsule
As you know, most of us also use our phones in bed, before going to sleep. And with few exceptions, the normal thing is that the use of the device in bed implies some alterations in our sleep, which are basically produced in turn by alterations in circadian rhythms.
Realme offers a feature called Sleep Capsule on plenty of its smartphones. As the name suggests, the intention of the Realme UI 2.0 Sleep Capsule is to bring some peace into your life by helping you put down your phone and focus on the real world for a bit. Your phone is powered on and there are a few functions you can still use, but overall your phone becomes inoperable. Read more How to view set as private photos and videos in Realme and OPPO
Realme UI 2.0: How to use Sleep Capsule in Realme
Sleep Capsule functionality that comes with Realme UI 2.0 based on Android 11 and that can actually be called experimental. Since this is within the "Realme Lab" which by the way now has already Spanishized its name by " Realme laboratory "
When you turn on the Sleep capsule, your phone goes into a kind of deep freeze for a certain period of time. During this time, you can't open apps, send text messages, change settings, or perform most other smartphone functions. But you can add some applications which can be used as an emergency after the sleep capsule is started.
Open the "Settings app" on your Realme smartphone
Scroll the screen to the end
Click on the "Realme Lab" option
Select the option "Sleep Capsule"
Now set the time you sleep.
Duration: you have to select how long Sleep Capsule will be active.
Repeat: You can repeat Sleep Capsule by days.
App Allow List: Select the apps that will be available during the sleep capsule. It is something that we can customize by clicking on " List of allowed applications " in which we are by default selected the most essential, such as messages, Google Maps, WhatsApp, Gmail, settings, or the calendar.
The good thing is at the bottom you will see a "banner" showing the number of nights we have slept early this month. Tap the banner on full screen, and at the bottom a "Share" button so you can share with family, friends, and others via social media app.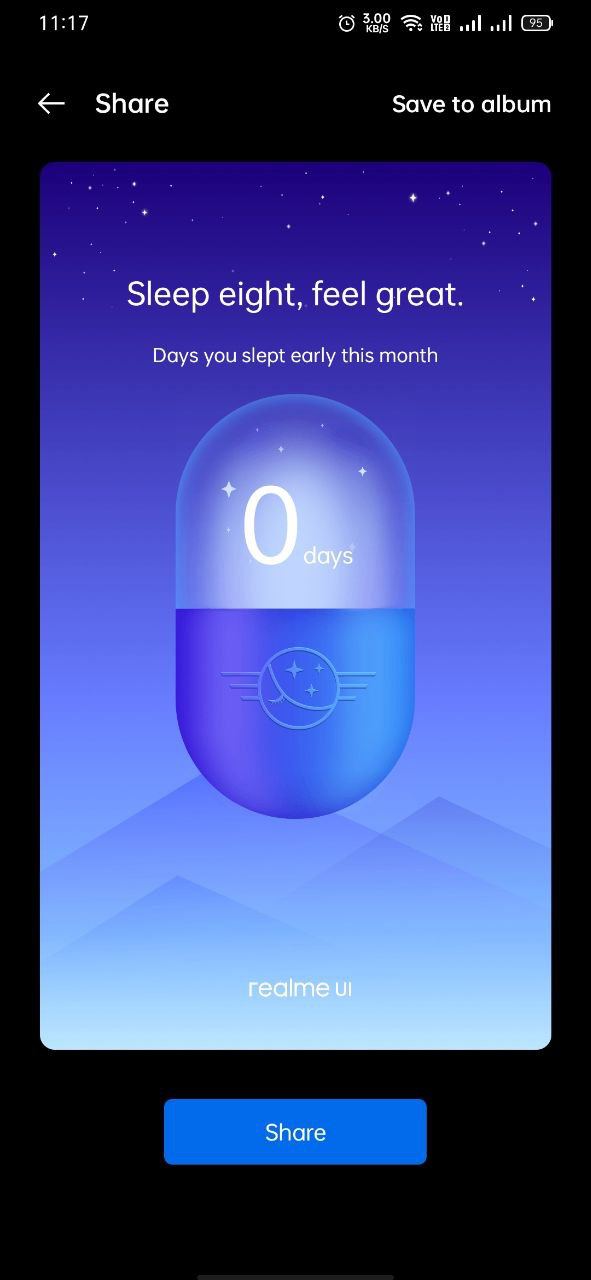 Once you turn the feature on, there is no going back: even restarting your phone won't turn it off. The default active time is 1 hour, so you will need to wait at least 1 hour before your phone returns to normal. As such, use this function carefully!
"If you like this article follow us on Google News, Facebook, Telegram, and Twitter. We will keep bringing you such articles."