Realme UI 2.0 vs Realme UI 1.0: See New Changes and Differences? As you know last year in 2020 Realme announced its new custom skin Realme UI 2.0 which is based on Android 11. Realme UI 2.0, based on Android 11 brings new features like a power button menu, three style dark mode features as well as tight privacy controls.
Realme has rolled out the official update for several smartphones including Realme X50 Pro, Narzo 20, Narzo 20 Pro, Realme 7 Pro, Realme 6 Pro, Realme 7i, Realme X7 series (China), and more, however, the company opens its early access and public beta program that brings the beta versions of Android 11-based Realme UI 2.0 for many of its old & new phones in India, Indonesia & China.
Before rolling up for the update, be very sure as these would be beta version updates and might cause problems on the devices. Realme has stated a warning that the software is not stable and could have an unpredictable impact on the devices.
In the Realme UI 2.0 skin, the company changed a lot of things, and today we'll talk about new features or changes.
Realme UI 2.0 vs Realme UI 1.0
Compared to the earlier version, Realme UI 2.0 is more polished and refined. Realme has made a conscious effort to make it look transparent. Everything is a bit more tweaked for ease of use on taller screens. We quite like the look and feel of Realme UI 2.0 and believe that many Realme fans will be too.
#1. Notifications and Quick Settings
If you will install the Realme UI 2.0 so the first changes that you'll notice after switching to Realme UI 2.0. The notification shade and quick settings now have a blurred, transparent background so it no longer hides the wallpaper and app icons completely.
#2. Volume controls
Realme changed only one thing. If you expand the volume control in Realme UI 2.0 so now you can manage notification volume from the volume menu.
#3. Three Style Dark Mode
Realme UI 2.0's New Dark Mode will provide 3 color schemes of pitch dark, blue dark, and gray dark, varying in darkness intensity. In addition, Dark Mode can be adjusted on the icons and wallpapers on the home page, which can match with the rising and setting of the sun.
#4. App Drawer & Quick Share
Realme UI version 1.0 brings a new app drawer with release, but what about in this new Realme UI 2.0 skin. Realme adds a new feature now you can short or select apps via the manage button.
The latest Realme UI 2.0 skin brings one more new cool feature, now you can share any installed APK file from your device to other smartphones. You can share Applications via Realme share, Bluetooth, Google's Nearby, and any third-party messenger app such as WhatsApp, Telegram, Signal, etc.
#5. Home Screen shortcut menu layout changed
Realme changes in Home Screen shortcut menu in this Realme UI 2.0 skin, now users can directly change more thing like – Icon, Wallpaper, Layout, Widgets, Transitions.
#6. Settings app menus and options streamlined
In its effort to declutter the interface, Realme has also streamlined many of the options and menus in the Settings app. You'll immediately notice new icons for all categories and that the Airplane mode removed from the top. It is available under the connection & sharing option.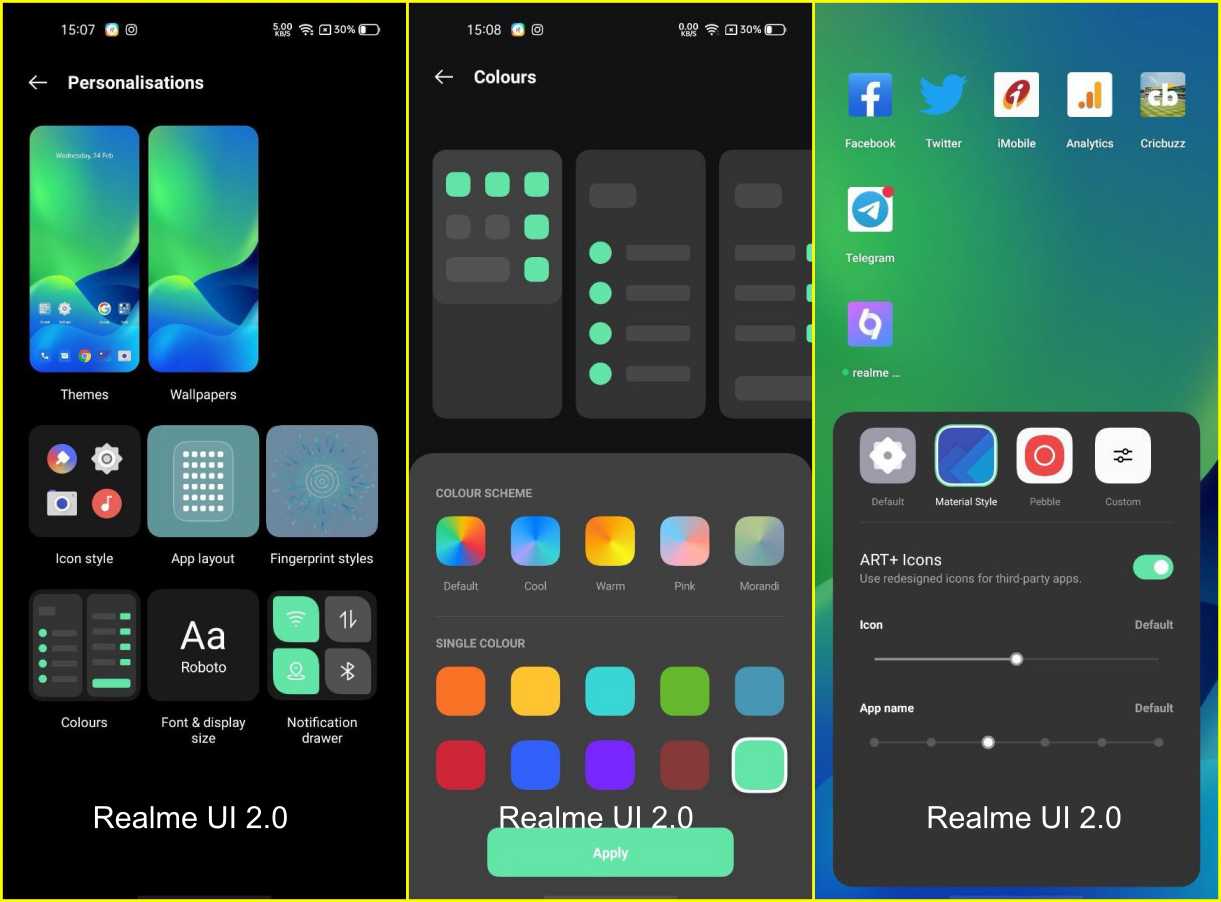 There are a new graphics personalize menu under the settings app. Now you can will many options in the menu, Themes, Wallpapers, Always on Display, Icon style, App Layout, Fingerprint style, colors, font & display size, Notification drawer.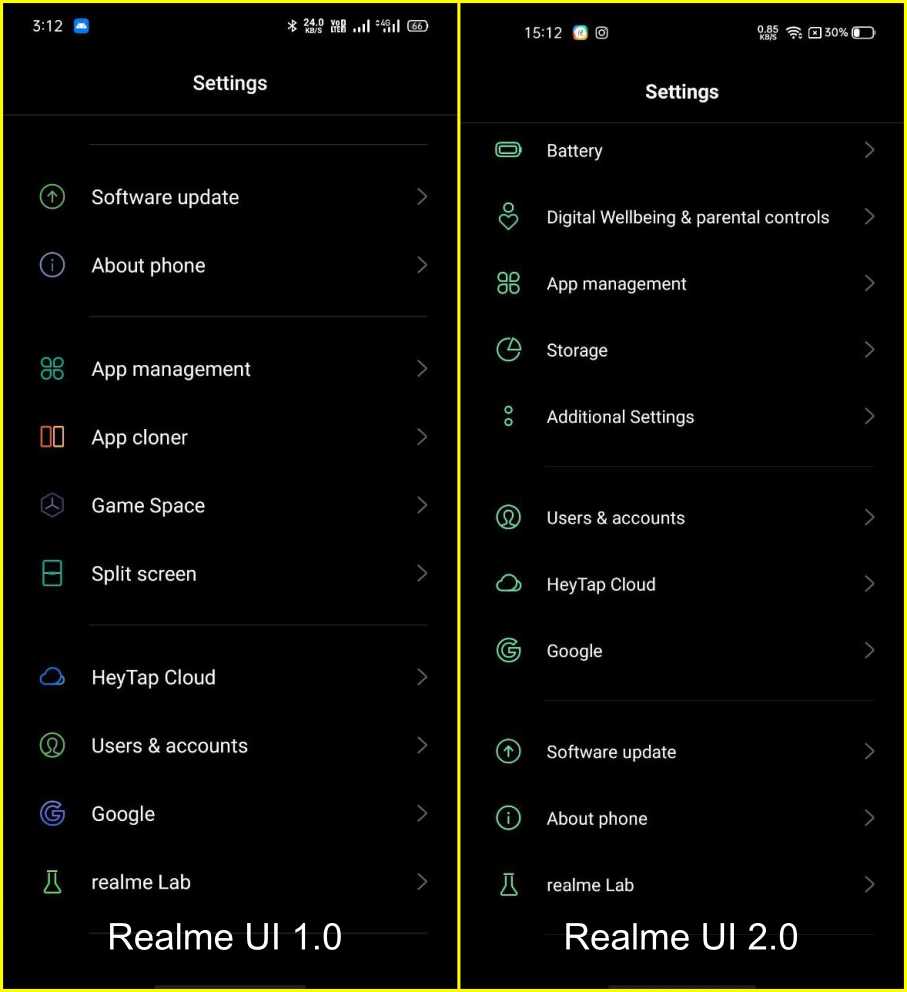 The Realme UI 2.0 brings 5 sections under the settings menu, and software updates, about the phone option available in the last section with Realme Lab.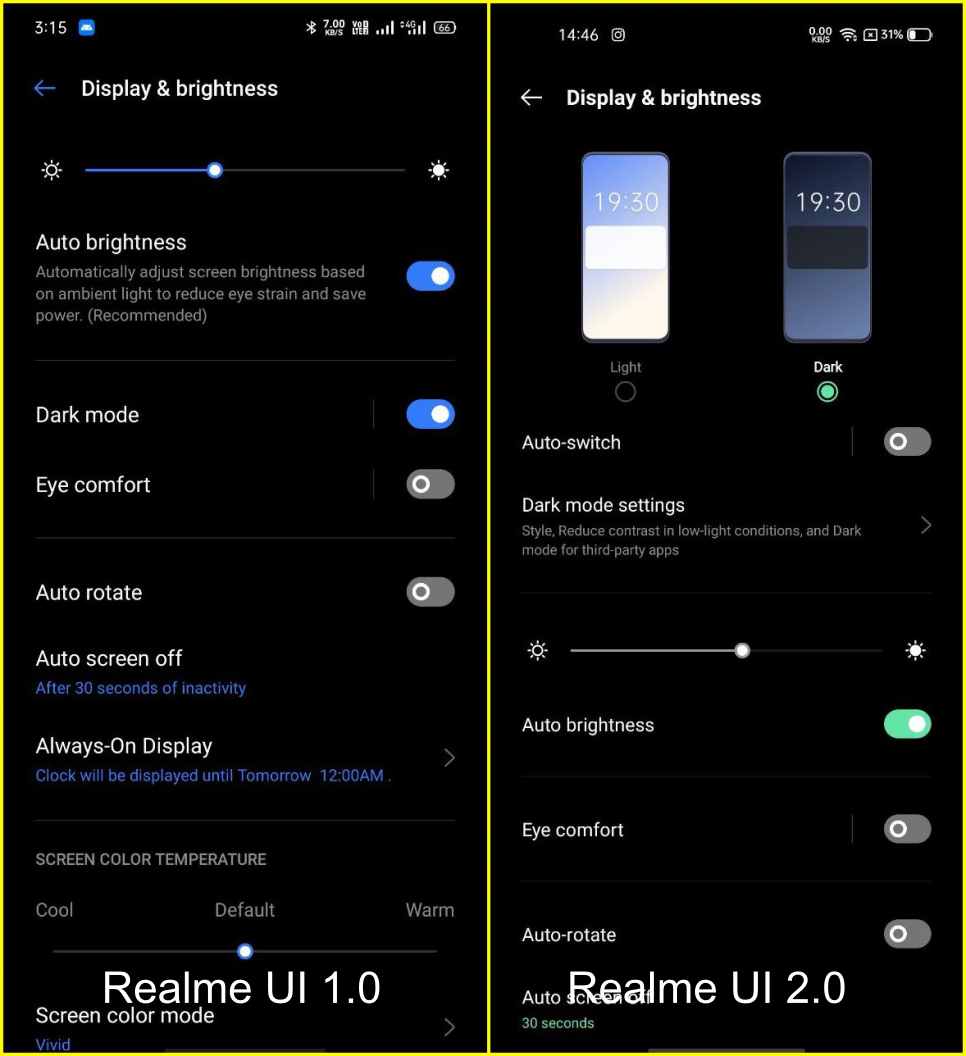 Display & Brightness menu has also changed, You will see the quick dark mode option with auto switch and three style dark mode settings option.
The company added some new options in the Convenience tools. You have to see the Screenshot, screen recording, split-screen.
#7. New Game Space 4.0
This is a major change of Realme UI 2.0, Game Space is the most important app for Gaming lovers, and the company's new feature under the Game Space. It adds Automatically adjusts the resolution, Smart dual-channel network, Network acceleration.
When is Realme UI 2.0 coming out?
The Realme UI 2.0 beta program is currently underway for several Realme smartphones. It's likely going to be expanded to the Realme 7 Pro and Narzo 20 series soon as well. Realme has previously said that it's going to release Realme UI 2.0 for the Realme 7 Pro handsets before the end of March.