Nowadays People are looking for more value for money, it's not about the cheaper phone, but one that gives them the value for money, and Realme is the best option for them because it competes aggressively against players like Xiaomi and Samsung in the Indian market and releases some unique and exciting features in its every update for attracting more users. Being a global company its Realme UI is considered the cleanest and most useful variant of Android.
And one of the attractive and cool features lifts to wake screen or raise to wake screen instead of having the press the power key to turn the screen on. Lift the phone to turn the Lift to wake feature is especially useful if you unlock your device via biometric options like face unlock.
It will turn on your Realme's screen automatically when it detects that the phone is being lifted. it lets you get a quick glance at your notification without a single button press.
Read Also: Realme UI: How to use the clone phone feature
This is super handy for quickly checking notifications on the lock screen or other situations where you're trying to sensible interact with your phone.
Like when you just want to check time or notifications and if face recognition was enabled, it may unlock the phone at the same time when the screen wakes up (if you are staring at the screen). Many other smartphone companies introduced similar features for some time already. 
Read Also: Realme UI: How to turn on the Identification of unknown numbers
You have to enable it if you want to use this feature on your Realme phone.  Follow the below steps to enable this in your realme phone:
Realme UI: How to turn on raise to wake screen light feature
Go to the Settings App.
Search the Convenience tools option and tap on it.
Tap on the Gestures and motions.
Then, enable the Raise to wake.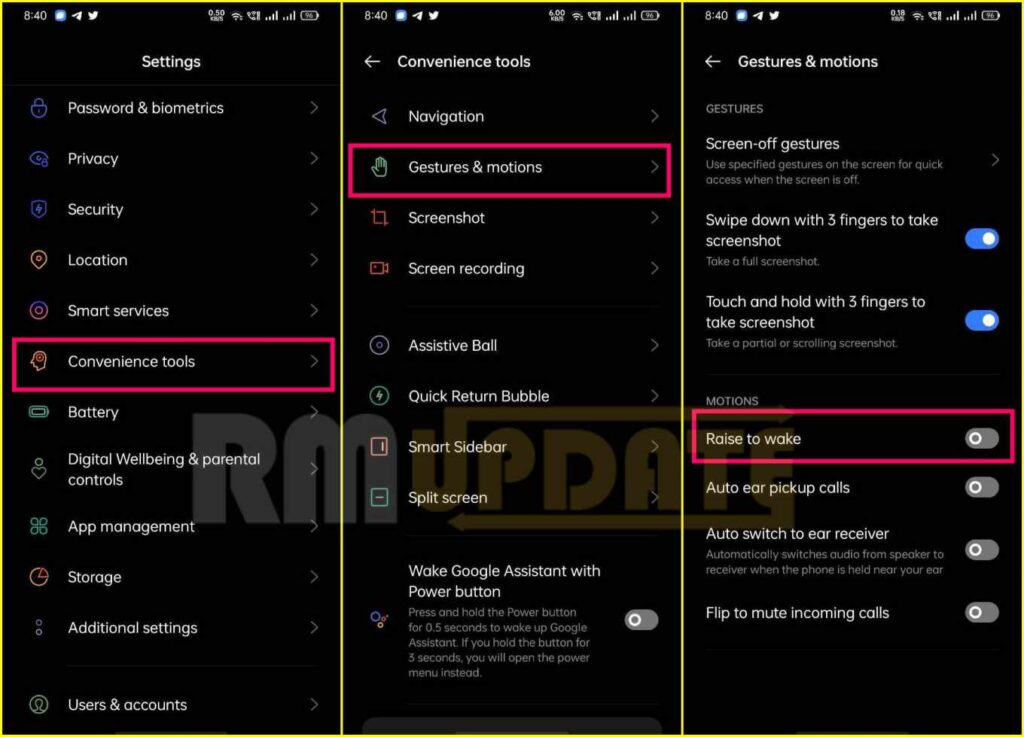 If you like this article follow us on Google News, Facebook, Telegram, and Twitter. We will keep bringing you such articles.