Phone Manager or Security Center offers you four actions to protect your phone, including Clean Storage, Privacy Permissions, Virus Scan, and Payment Protection. In Realme UI and above, there are added functions like Messenger Cleaner and Whatsapp cleaner.
Phone Manager App receive the latest update for OPPO and Realme smartphone users. The latest version number of this update is 12.8.1. You can update from Google Play Store or download bellow link.
The Phone manager also has Common Problem Detection or Component Check, which allows you to scan your phone for abnormalities with one tap. Continue reading the simple guide we created below to know more about this.
Check more stories about Realme
The phone manager has been reconstructed to bring together more security features in the Realme UI 3.0 It let the users find and use relevant security tools.
Recently a new Phone Manager version 12.7.7 is available to download for Android 11 users of Realme smartphone users. It brings new features such as Cleanup Storage, Virus scanner, unknown source installation, and more.
Check here the latest version
April 28, 2022
April 23, 2022
Type – Stable
Compatible – Android 12 – OPPO/Realme
Region – Global
Note:- ⚠️In some case the app will not work in your smartphone. So please don't blame us. Try your own risk.
April 5, 2022
Disclaimer: This application is extracted from OPPO and Realme smartphones, But if it is not installed on your mobile or if there is any problem with your mobile being installed then we will not be responsible for it. [Install own your risk]
Phone Manager 2.0 Features
One-Touch Optimization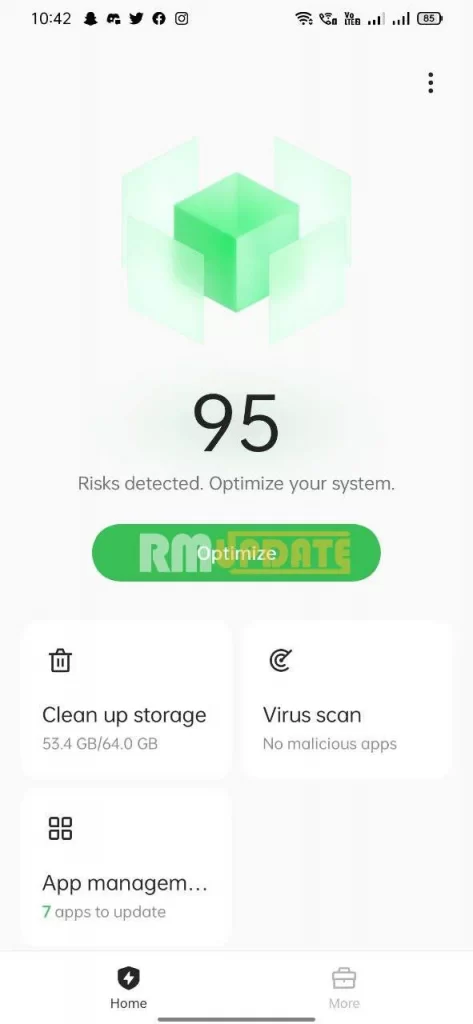 Open the Phone Manager and the system will automatically scan your phone. Once the scanning is completed, continue to optimize your phone storage. You can also select the files that need to be cleared manually.
Clean up storage
Junk files might slow down your phone's operating speed. Clean storage in Phone Manager or Security Center to secure your phone and free up more storage space.
Privacy Permissions
Use the Privacy permissions feature to manage app permissions, protect your privacy, and manage apps that start when phone startup.
App Permissions
Select an app and choose to accept or allow, decline/deny, or limit call, SMS, device, and privacy-related permissions.
Virus Scan
For better security and experience, you can use it to scan and remove malicious software and files.
Payment Protection
While you shop online, your phone will provide protection for mobile transactions, such as detecting captcha and app security. See Security of Transaction thru OPPO Payment Protection.
Read more: How to Download and Install the ColorOS 12 [Android 12] on OPPO Phones
Read more: OPPO ColorOS 12 Supported Device List Based on Android 12
"If you like this article follow us on Google News, Facebook, Telegram, and Twitter. We will keep bringing you such articles."