Updated – Realme officially announced the stable Android 12 update with Realme UI 3.0 for Realme 7 Pro in India. This time the Realme 7 pro carries build number RMX2170_11_F.16. The roll-out is released in batches and will reach you soon, kindly wait for it. Also to receive this update, please make sure your device is updated to the required version RMX2170_11_C.30 / RMX2170_11_C.32.
How to rollback (Downgrade) from Realme UI 3.0 to Realme UI 2.0- Easy Steps Guide [Added More Devices]
Previous Story – June 13th
Good news is coming for Realme 7 Pro owners. The device, in fact, has been receiving the major update to Android 12 a few hours ago (this is version RMX2170_11_F.14).
The update, weighing a total of 2.1GB, comes along with the May security patches and the novelties of realme UI 3.0, the new Android customization made by Realme precisely on the occasion of the release of Android 12. Among the novelties, several tweaks for the graphical interface, for example new animations and dynamic themes and new features for the Camera and accessibility.
Phone Manager v13.0.2 available to download for Realme UI and ColorOS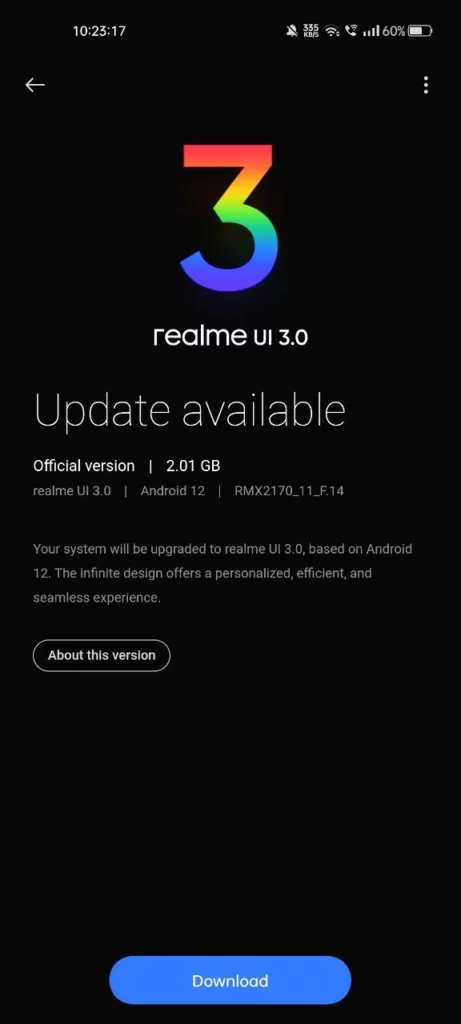 The update for Realme 7 Pro is currently being distributed via OTA also in India. Let us know if it has already come to you too.
Complete changelog:
New design

The brand new design, which emphasizes the sense of space, offers a simple, clean and comfortable visual and interactive experience.
Redesign icons using new tools to give more depth and a greater sense of space and texture to icons.
Optimize Quantum Animation Engine: Quantum Animation Engine 3.0 implements the concept of mass to make animations more realistic and optimizes more than 300 animations to deliver a more natural user experience.

Comfort and efficiency

Adds "Streaming in the Background": Apps in Background Streaming mode continue to play audio from a video when you leave the app or lock your phone.
FlexDrop has been renamed Adaptable and Optimized Windows: – Optimize the method of changing the size of floating windows. – You can now drag a file from My Files or Photo from the Photos app into a floating window.

Performance

Adds Quick Start, a feature that detects apps you use frequently and uploads them in advance so you can open them faster.
Adds a graph to view battery usage.
Improves responsiveness of Wi-Fi, Bluetooth, on or off.

Games

In team combat scenes, games run smoother and with a stable frame rate.
Reduces average CPU load and reduces battery usage.

Camera

You can now decide which camera modes to display in the menu bar and in what order.
You can now drag the zoom slider to zoom in or out smoothly when shooting a video using the rear camera.

System

Optimize the automatic brightness algorithm to adapt the screen brightness to multiple scenes for a comfortable screen reading experience.

Accessibility

Optimize accessibility: – Adds visuals to text instructions for an intuitive understanding of accessibility features. – Optimize function categorization by grouping them into view, hearing, interactive, and general actions. – TalkBack supports multiple system apps including Photos, Phone, Email, and Calendar.
Stable Version Announcement – May 26th
The company has announced the stable update for the Realme 7 Pro through the official forum as well as Realme 8 Pro is still under testing phase
According to the current testing situation, the realme UI 3.0 stable release version of realme 7 Pro & realme 8 Pro is still under testing phase. In order to provide you all with a better product experience, the version is planned to be released by late June. Thank you for your patience, we shall keep you posted with further updates soon.
Open Beta [April 2nd] – Finally the company announced the Android 12-based Realme UI 3.0 open beta for Realme 7 Pro users. But before you guys update, read the thread for complete info.
Make sure to update to the required version: RMX2170_11_F.12. Application channel open: 2nd April 2022. Check Here Full Details
Updated: March 23rd
Realme released the second batch of Realme UI 3.0 early access beta programs for Realme 7 Pro in India. Settings → About phone → Click on the "realme UI 3.0 Software Version" banner at the top → Click on the three dots in the top right corner → Local install → Find and tap the rollback package to roll back to the previous version.
Original Story – January 25th
Here is good news, Realme has officially started recruiting the Android 12 based Realme UI 3.0 early adopters in India. This is an early access program for Realme 7 Pro. And it will soon be available in more regions including in India.
Realme UI 3.0 based on Android 12 has finally arrived, and here's your chance to enroll your Realme 7 Pro in the Realme UI 3.0 Early Access and experience it before anybody else!
Realme UI 3.0 Android 12 Beta version for supports Realme 7 Pro. Please make sure that your device is Realme 7 Pro in India, currently, this is the model that is compatible with the Realme UI 3.0 Android 12 Beta Program. Other models are not supported.
Currently, the first batch of Realme UI 3.0 beta is only for limited users, and now it has been full. If you are not registered in the first batch so wait for the 2nd batch.
Recruitment opening time: 25th January, 2022
The first early adopter version push time: January 25th
Update your device to the required UI version → RMX2170_11_F.10
Update your device to the required UI version
Please open the "Settings"
Then "Software Update"
Settings button in the upper right corner
"Upgrade early adopters" on your phone.
Click "Upgrade Early Access"
Read the appointment instructions, update log, etc. and click "Book Now".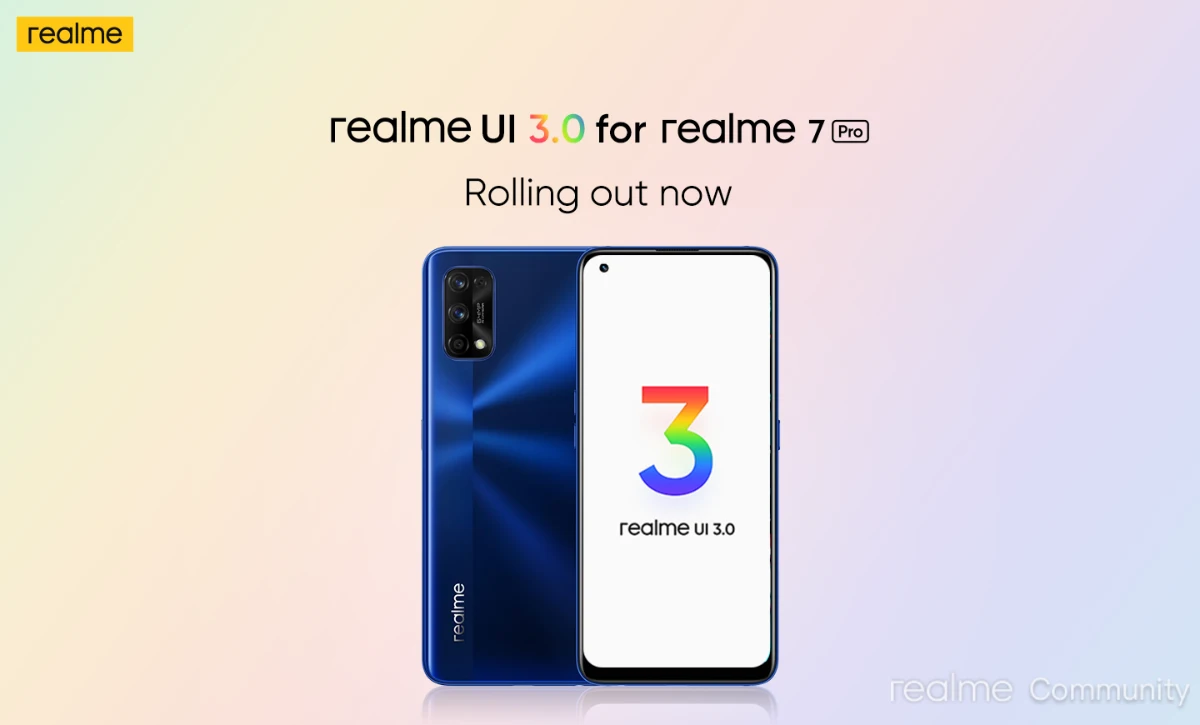 "If you like this article follow us on Google News, Facebook, Telegram, and Twitter. We will keep bringing you such articles."