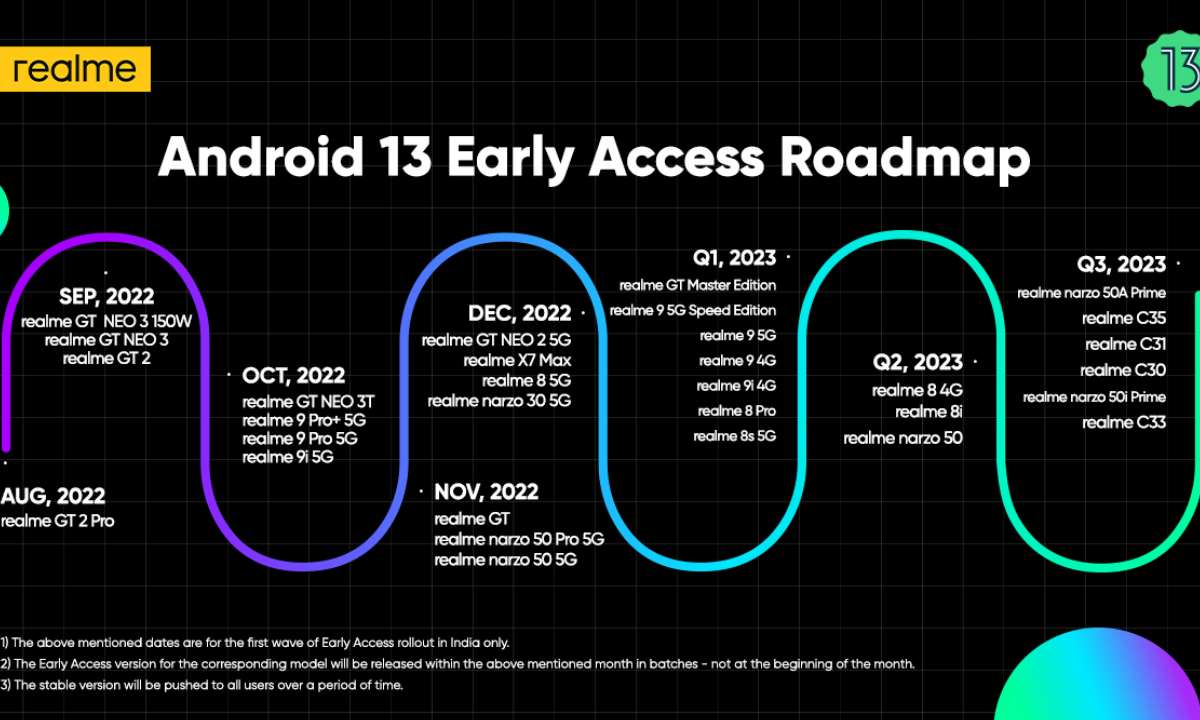 Beginning of the month, Realme officially announced the Android 13-based Realme UI 4.0 Beta roadmap for some flagship smartphones in China. Right now, the Chinese tech giant announced the first batch of the roadmap of the Realme Android 13 Early Access in India.
This Realme UI 4.0 based on the Android 13 update is expected to come with a lot of customization options, great design, improved security and security, new improvements, and providing an overall seamless user experience. Read more Realme released September 2022 security update for Realme 9i 5G and Realme C30s
Android 13-Based Realme UI 4.0 Beta Roadmap:
The Realme GT2 Pro was the first device to be updated to Android 13 in April 2022, while the rest of the Realme devices will follow in the coming months. This month, the Realme GT Neo 3 150W, GT Neo 3, and GT 2 will receive the Realme UI 4.0 based on the Android 13 Early Access update. Read more Realme Always On Display (AOD) Supported Device List [Added New]
In addition, Realme GT Neo 3T, Realme 9 Pro+ 5G, Realme 9 Pro 5G, Realme 9i 5G will receive the Realme UI 4.0 Early Access version in October, and Realme GT, Realme Narzo 50 Pro 5G, and Narzo 50 5G will have to receive November.
In December, Realme GT Neo 2 5G, Realme X7 Max, Realme 8 5G, and Narzo 30 5G will receive the Android 13 Early Access update. Moreover, some devices of the Realme 9 series, Realme 8 series, Realme C series, and some Narzo smartphones will have to wait until next year.
Below you can check the complete list of Realme devices that will receive the Realme Android 13 Early Access update in the Q1, Q2, and Q3 of 2023 in India. This update will be received for the corresponding models for testing and development purposes and the stable version will be rolled out to all users over a period of time. Read more Realme GT Neo 3T's First Sale On September 23: Check Price, Availability & Specifications
Realme UI 4.0 Beta For September 2022
Realme GT Neo 3 150W
Realme GT Neo 3
Realme GT 2
Realme UI 4.0 Beta For October 2022
Realme GT Neo 3T
Realme 9 Pro+ 5G
Realme 9 Pro 5G
Realme 9i 5G
Realme UI 4.0 Beta For November 2022
Realme GT
Realme Narzo 50 Pro 5G
Realme Narzo 50 5G
Realme UI 4.0 Beta For December 2022
Realme GT Neo 2 5G
Realme X7 Max
Realme 8 5G
Realme Narzo 30 5G
Realme UI 4.0 Beta Roadmap 2023:
Q1, 2023
Realme GT Master Edition
Realme 9 5G Speed Edition
Realme 9 5G
Realme 9 4G
Realme 9i 4G
Realme 8 Pro
Realme 8s 5G
Q2, 2023
Realme 8 4G
Realme 8I
Realme Narzo 50
Q3, 2023
Realme Narzo 50A Prime
Realme C35
Realme C30
Realme C33
Realme Narzo 50i Prime
"If you like this article follow us on Google News, Facebook, Telegram, and Twitter. We will keep bringing you such articles."