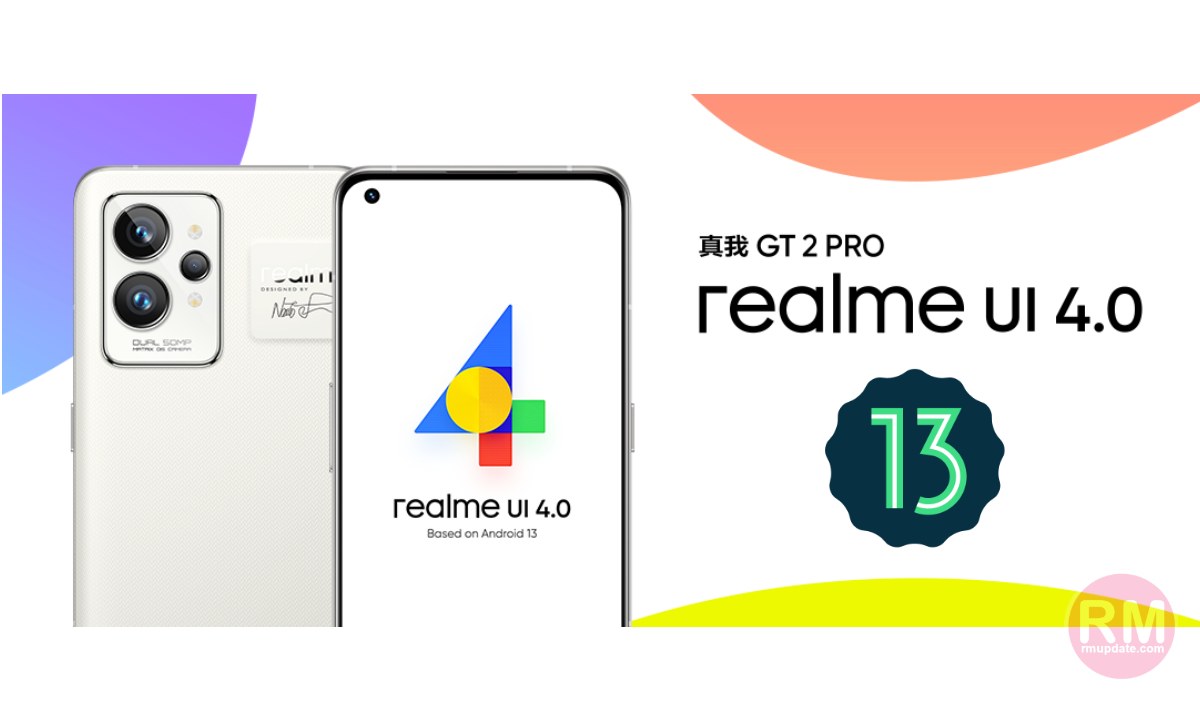 Realme also announced the start of the Realme UI 4.0-based Android 13 beta program for its smartphones: the first to receive Beta 1 of the next Android release is Realme GT 2 and Realme GT 2 Pro.
The Android 13-based Realme UI 4.0 beta available for Realme GT 2 Pro (Public Beta) in India/China and Realme GT 2 (Early Access) in India/China. After more than a month of early adopters and internal testing, Realme GT2 Pro has ushered in the realme UI 4.0 public beta upgrade. Realme fans who are using Realme GT2 Pro are welcome to sign up for the experience!
This update system will be upgraded to realme UI 4.0, focusing on adding aquatic design, and the vibrant theme color brings a new experience. Optimized smart office and security privacy, provides a variety of screen displays, and the interface UI brings a clear and orderly visual experience. It is recommended to update.
How to apply for Realme UI 4.0 beta
Make sure your realme GT 2 & GT 2 Pro has a 60%+ battery.
Update your device to the required UI version → 

Realme GT 2 (India) RMX3312_11_A.19 / RMX3312_11_A.20
Realme GT 2 Pro (India) RMX3301_11_A.18 / RMX3301_11_A.19
Realme GT 2 (China) – C.01
Realme GT 2 Pro (China) – A.26 or A.28
Settings → Software Update → Tap on the settings icon in the top right corner → Trial Version → Apply Now → Submit your details and finish the quiz.
Changelog:
Aquatic design

Added aquatic design theme color to enhance visual comfort
Added aquatic effects, the animation incorporates the aquatic design concept, and the style is real and flexible
Added world clock tracking technology to simulate real projection effects based on sun and moon orientation
Added the world clock on the main screen to display clock information in different time zones
Upgrade the quantum animation engine to version 4.0, add behavior judgment, recognize complex gestures, and optimize the interaction mode
Optimize the UI level to bring a clear and orderly visual experience
Optimize the dynamic effect, simulate the real physical motion trajectory, and the effect is natural and coherent
Optimize the responsive layout of the interface, adapt to different screen sizes, and improve visual reading comfort
Optimize card design, classify and integrate information, and improve the speed of information acquisition
Optimized fonts, more coordinated typesetting, and increased legibility
Optimize the system icons, adopt the latest color system, more highly recognizable, and improve the overall texture
Optimize system illustrations, integrate diverse cultures, and enrich illustration content

Efficient and convenient

Added intelligent meeting assistant to improve meeting network and shorthand experience, and add notification light reminder
Added support for one-key meeting and intelligent sorting of meeting minutes to improve office efficiency
Added large folders, a new desktop folder experience, one-step opening of applications in the folder, and support for sliding pages
Added NFC college campus card, you can travel on campus without a card (support for some colleges and universities)
Double-click the power button to quickly display the health code
Added Media Play Center to optimize the operation experience of the Control Center
Added smart schedule management and conflict reminders to rationally arrange personal time
Added support for importing Dingding schedules with one click and adding email schedules with one click
Added support for schedule recognition, you can recognize the current interface schedule through the screen recognition function and import it to the calendar with one click
Added screenshot editing support for graffiti and upgraded graffiti brushes
Added support for adding cards on the desktop, providing more personalized information display and enriching the playability of the desktop
Upgrade Super Recording to version 2.0, enhance search capabilities, and support exporting graphic data
Optimize Xiaobu's suggestion card, and dynamically recommend applications and services in multiple scenarios

seamless interconnection

Upgrade the cross-screen interconnection to version 2.0, support phone audio calls to answer and hang up on the PC side, and switch between the two ends freely
Optimized the ability to open multiple mobile applications on the PC side of the cross-screen interconnection, support multitasking, and improve work efficiency
Optimize mobile phone screen projection, support content adaptive screen projection layout, and screen projection and mobile phone use do not interfere with each other

personalise

Added various Omoji materials, supports setting contact avatars, and creates more personalized avatars
Added time-based screen display, providing more personalized style settings for the screen
Optimized portrait drawing and shadow screen display, supports multiple brushes and line colors

Security Privacy

Added the function of one-click automatic coding of shared pictures, identifying and blurring personal information in chat records to protect privacy and security
Added permission suggestions, intelligently recommend permissions, and improve computer security
Added anti-malicious induced installation application function, supports intelligent blocking of malicious pop-ups and advertisements
Optimized private safe, using advanced AES full file encryption scheme to enhance the security of private files
Optimize the security protection of payment scenarios, integrate mobile phone shield, and make payment safe and worry-free

Health care

Added automatic switching to children's mode when using the children's space browser to protect children's health
Added children's space to automatically turn on the eye protection mode to protect children's eyesight
Added family space to view family health data, comprehensively protect and care for family members

Performance optimization

Optimizing the openness of the ear canal, building an ecosystem of ear canal capabilities, and facilitating access to third-party applications

Game experience

Upgrade HyperBoost GPA frame stabilization technology to version 4.0 to achieve stable frame rate in key scenes, balancing performance and power consumption
"If you like this article follow us on Google News, Facebook, Telegram, and Twitter. We will keep bringing you such articles."