5 Best Free Wallpaper Apps For Android In 2023
In a dynamic environment, it becomes very boring to stick to the same wallpaper on a phone or tablet, but who wants to spend time scrolling through Google Images or old photos to find the perfect background? On the Google Play store, there are tons of free wallpaper apps available for Android users. Now there is no need to waste time in endless searching.
Moving on, these are some of the best free wallpaper apps on the Google Play Store that you can use on your Android phone. If you use wallpaper apps, you can give a new look to your phone or tablet with a new picture every day.
Best free wallpaper apps for Android 2023:
STOKiE
Wallpapers by Google
Vectorify da home
WalP
TruePick's
STOKiE
STOKiE is one of the free amazing stock HD wallpaper apps that not only offers over 12,000+ stunning stock wallpapers from a range of smartphone and tech companies but is also packed with a host of additional features.
STOKiE Key Features:
Vast Collection of Stock Wallpapers
Categorized by Brand and Model
Auto Wallpaper Changer
Dark Mode
Wallpaper Editing Options
OLED-Friendly Wallpapers
Custom Gradient Wallpapers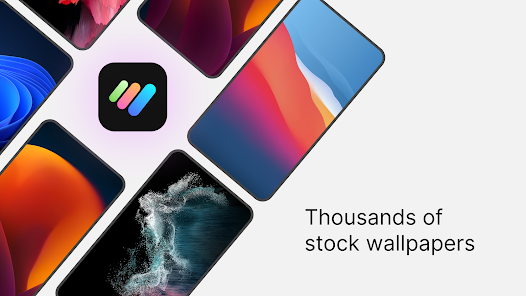 STOKiE categorizes its wallpapers by mobile brand name, which includes Apple, Samsung, Google, OnePlus, Xiaomi, Oppo, Vivo, Realme, Huawei, Motorola, Nokia, LG, HTC, Sony, ASUS, and many more.
Download link: Google Play Store
Wallpapers by Google
Wallpapers by Google is a cool app for wallpapers. It has a small but nice selection of wallpapers and is completely free, with no ads or in-app purchases. Separate lock screen and home screen wallpapers in the app, an auto-set function for new wallpapers every day, and much more. The app has some bugs, and its collection isn't that big, but it does have some really high-quality items.
Download link: Google Play Store
Vectorify da home
"Vectorify da home" is a minimal and open-source app for applying wallpapers from a huge (400+) collection of vector graphics. With this application, you can have customizable and swappable background/graphic colors and apply light, dark and automatic themes.
Download link: Google Play Store
WalP
WalP is an HD & 4K Stock Wallpapers App, which is a free app that provides stock wallpapers of mobile phones in HD quality, and stock wallpapers from 30+ brands are available. Also, it has a huge number of wallpapers which are increasing every day. With this application, stylize your phone and make it look like a new phone. This application comes with lots of features; now, you can check below.
WalP Key Features
Easy to use User Interface.
Recent search suggestions
Wallpapers categorized by brand and model name
Fast loading of wallpapers
UHD (Ultra HD) wallpapers 2880 x 2660
Scrollable wallpapers 2160 x 1920.
Search functionality to find the wallpapers easily.
Set different wallpapers on Home Screen and Lock Screen
Add wallpapers to favorites and more.
Download link: Google Play Store
TruePick's
"TruePick's" is an excellent app for phone theming, with a setup where they show you a wallpaper, icon pack, Icon Pack, Launcher, and even custom widgets to give your entire home screen a makeover. With this application, You can bookmark wallpapers and setups for future reference and explore various icon packs and widgets through this app. Further, you can Redesign the whole UI based on Material Design.
In addition, the app has over 250 wallpapers and home screen setups that are handpicked and updated every week. Here, you will find high-quality AMOLED wallpapers for your OLED screen, and if you are a minimalist who prefers minimalistic structures as your wallpaper, then you are at the right place, trust us!
Download link: Google Play Store
If you like this article follow us on Google News, Facebook, Telegram, and Twitter. We will keep bringing you such articles.