Smartwatches have become an essential accessory for many people, offering a range of features that can enhance our daily lives. Noise, a popular brand in the wearable technology industry, has recently launched the ColorFit Quad Call, a budget-friendly smartwatch packed with a variety of features.
In this review, we will evaluate its performance and determine if it truly stands out as the best smartwatch under 1500 Rupees.
Bluetooth Calling
One of the standout features of the Noise ColorFit Quad Call is its ability to make and receive calls directly from the watch. This convenient feature allows users to stay connected without having to reach for their smartphones. During our testing, we found that the Bluetooth calling feature worked well, providing clear audio and a reliable connection.
IP Rating
The ColorFit Quad Call boasts an IP67 water resistance rating, which means it is capable of withstanding immersion in up to 1 meter of water for 30 minutes. We tested the smartwatch under various conditions, including splashes and submerging it in water, and it successfully survived without any issues. This IP rating ensures that the watch is protected against everyday activities such as handwashing and accidental spills.
Design
When it comes to design, the Noise ColorFit Quad Call adopts a rectangular shape reminiscent of the popular Apple Watch. This sleek and modern design gives it a premium look and feel. The watch is lightweight and comfortable to wear, making it suitable for extended periods of use. The strap is adjustable and made of durable materials, ensuring a secure and comfortable fit on the wrist.
Read also, Gizmore Glow Z Review: Best AMOLED Display Smartwatch Under Rs 1500
Moving beyond these key features, the Noise ColorFit Quad Call offers additional functionalities that make it a versatile smartwatch:
100+ Watch Faces:
The smartwatch provides a wide range of customizable watch faces, allowing users to personalize their device and choose a design that matches their style and preferences. With over 100 options available, users can easily find a watch face that suits their mood or occasion.
In-Built Games:
For those looking for a little entertainment on their wrist, the ColorFit Quad Call comes equipped with in-built games. This feature adds a fun element to the smartwatch, allowing users to pass the time and enjoy gaming experiences directly from their wrist.
24/7 Heart Rate Monitor:
Keeping track of your heart rate is crucial for maintaining a healthy lifestyle. The ColorFit Quad Call includes a 24/7 heart rate monitor that provides real-time monitoring of your heart rate. This feature allows users to keep an eye on their heart health and make necessary adjustments to their activities and routines.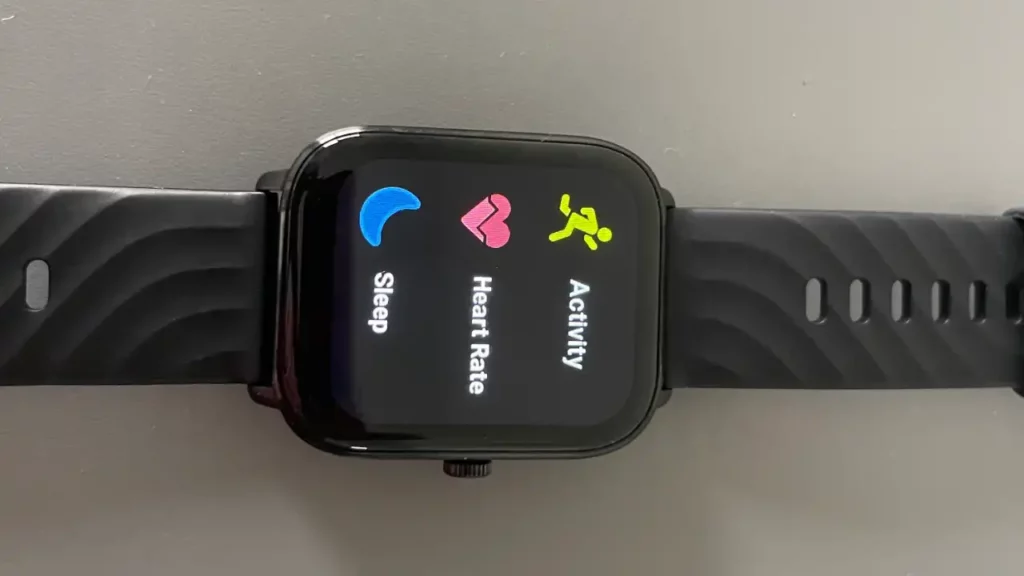 Battery Life:
The smartwatch offers impressive battery life, lasting up to 5 days with normal use. With Bluetooth calling enabled, the battery life reduces to 2-3 days. This extended battery life ensures that users can rely on the smartwatch throughout the day without frequent charging.
Sleep Tracker:
Understanding the quality of your sleep can help improve your overall well-being. The Noise ColorFit Quad Call comes with a built-in sleep tracker that monitors your sleep patterns, including deep sleep, light sleep, and awake times. This information can assist users in adopting healthier sleep habits and improving their sleep quality.
Read also,boAt Wanderer Kids Smartwatch Launched with Video Chat Feature at Rs 5000
While the Noise ColorFit Quad Call offers many noteworthy features, it is important to note that it comes with a 1.81″ TFT display, not an AMOLED display. This may affect the overall visual experience and contrast levels.
If you like this article follow us on Google News, Facebook, Telegram, and Twitter. We will keep bringing you such articles.