Google Play Store: How To Enable "Automatically Archive Apps" Feature
Smartphones can easily run out of space, no matter which premium smartphone you own. Although modern smartphones offer great storage space as compared to the previous models, a massive bunch of apps can use up all the storage space on your phone. Meanwhile, Google has taken an interesting measure to deal with the problem by introducing the Automatically Archive Apps feature, which automatically reduces the storage space of certain apps you haven't used for a while. Here's a quick guide to help you learn about how you can enable the Automatically Archive Apps feature on your Android smartphones.
Google Play Store: Automatically Archive Apps
Google Play Store's Automatically Archive Apps feature allows users to archive or disable the app/apps that have not been used for a while, making space for further new app installs and updates. This feature was previously available when your device was only running out of storage space. Although it has been rolling out to more people, it holds its place within the Google Play Store settings under General. This makes it convenient for users to keep their favorite apps on their smartphones without even taking up a lot of storage space. Otherwise, these apps consume a lot of storage space, including the background data.
Moreover, with the introduction of the new Automatically Archive Apps feature, your smartphone automatically archives those applications you don't use to free up the storage space for the latest apps. While this setting is on, all the inactive apps will be removed, but the personal data on the app will be saved. In other words, the icon of apps remains on your smartphone, and you can download the app anytime by heading to the Google Play Store.
How To enable the "Automatically Archive Apps" feature?
Do note that when you try to install an app but don't have enough storage space for any further app, you will get a notification about automatically archiving apps. Now, to enable the Automatically Archive Apps feature, follow the process mentioned below:
Go to Google Play Store.
Tap on the Profile icon
Head to Settings.
Select General.
Turn on the toggle the Automatically archive apps to enable it.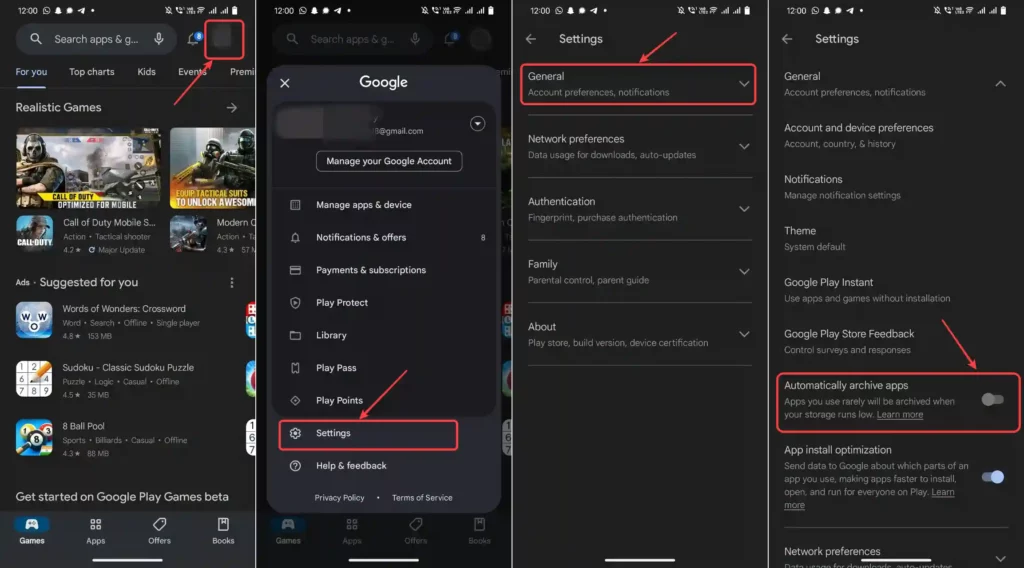 If you like this article follow us on Google News, Facebook, Telegram, and Twitter. We will keep bringing you such articles.