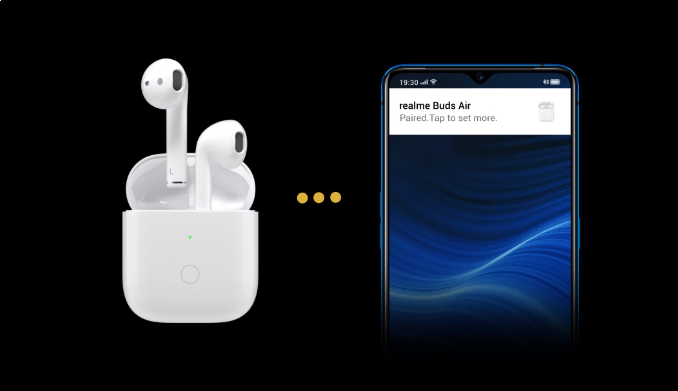 The Realme Buds Air is priced at Rs 3,999, and available in three different colors — yellow, black and white. The sale will begin at 12 pm today at Flipkart. Since Flipkart only offers a white color variant as of now, you can head to the company's website to grab other color variants. Here we have discussed 10 Reasons why people buy Realme Realme Buds Air and its features.
Realme Buds Air Features
Super Low Latency –R1 Chip
Wear Detection –Auto Play/Pause
Dynamic Bass Boost Driver – Advanced Audio Coding
Open-up Auto Connection – Google Fast Pair
Wireless Charging – 17-hour Playback*
Dual Mic for Calling – Environment Noise Cancellation
1. A New Generation, True Wireless Experience
The all-new Realme Buds Air offers a truly wireless experience that is free from the shackles of cables, giving you true music freedom. Elevating the true wireless experience to the next level is the custom R1 chip with Bluetooth 5.0 that enables an instant and stable connection between the earbuds and the phone, better battery performance, and accessible smart controls.
2. Wireless Charging
Break free from all wires and experience true freedom as the Realme Buds Air comes with a wireless charging case. Simply place the case on Realme 10W Wireless Charger to charge up your earbuds. The front of the case comes with LED lights to provide real-time charge information. Additionally, it also supports charging via a Type-C charging cable.
3. Dual-channel Transmission with Super Low-latency
With real-time dual-channel transmission, the Realme Buds Air delivers an exceptional music experience by operating each of the earbuds independently. Gaming and video playback are optimized with a dedicated Gaming Mode that reduces latency by 51%*, ensuring perfect sync between visuals and sounds.
4. Built-in Google Assistant
Just press the Realme Buds Air for a second to awaken your voice assistant. Experience a smart new lifestyle without taking out your phone by controlling music playback, calls, volume adjustment and information services, such as weather.
5. 17-hour Battery Life for Non-stop Listening
Realme Buds Air delivers a total of 17 hours of music playback. Want to know how much the battery remains? Get intuitive battery information right on your phone.
6. Instant Auto-connection
Realme Buds Air can be paired with a simple press of a button, and once paired, whenever you open the case cover, the Realme Buds Air recognizes and connects to your phone instantly, giving you a seamless music experience.
7. Environment Noise Cancellation for Calling
The dual microphones on the Realme Buds Air use ENC (Environment Noise Cancellation technology) to intelligently identify every word and filter out any background noise. During calls, your voice will remain clear even in a noisy environment.
8. Real Design, Curve Aesthetics
In order to provide you a more comfortable feeling, the new wireless charging case adopts a full-arc design, and each R Angle is made with more than 20 arcs, making it more rounded physically, and conveying a sense of ease. The Buds Air comes in three colors – yellow, black and white, with each one stylish in its own way.
9. Wearing too Comfortable to Feel Like Nothing's There
A sheet of A4 paper weighs around 4.3g, while a single earbud is about 4.2g, a weight you can almost ignore. Based on more than hundreds of real-world tests on people's ears, Realme has adjusted the radian of the bud, and the angle between the stem and bud, making the design highly compatible with the auditory canal.
10. Powerful Sound with a Big Bass Driver
Get a powerful sound experience with an imported LCP advanced multi-layer composite diaphragm and a big 12mm sound unit. Thunderous bass hits without compromising on the original richness and fidelity of the sound.
For The Latest Activities And News Follow Our Social Media Handles: