Realme UI 3.0 [Android 12]: How to use and customize Always-On Display your smartphone
Last year Realme launched its own custom UI based on Android 10, Realme UI, it brings with it many new features, one of which is Always-On Display (AOD) aka Screen off display is a feature that allows users phone's lock screen to show time, date, battery status, notifications, and more while the screen is off.
As we all know that Realme has released its new version of custom skin Realme UI 2.0 which is works with Google's Android 11 OS. And the company has already rolled out the latest update to several Realme devices.
The Realme UI 2.0 comes with several new features such as new UI design, 3 style dark mode, System Cloner, new icon & shapes, and it also brings the most amazing feature in the Always-On Display, it offers a wide variety of styles and patterns to truly represent your style. The content of Always-on Display is not just automatically generated, but created by users with just one stroke to craft a unique pattern.
Here we are bringing to you a full how-to guide of the new Realme UI 2.0's Always-on Display. You can easily customize your Realme Device AOD – Text, Image, Analog & digital clock, new patterns, and more.
Realme UI 2.0: How to use and customize Always-On Display
First of all, Open Settings App
Now go into Personalizations or Home Screen, Lock Screen & Always on Display
Tap On "Always on Display" then turn it on
Now you can select Display options – Power Saving (after screen off, it will visible only 15 sec.) Scheduled (Set custom time as per your uses), All day (Visible every time)
Realme gives you Custom Patterns, Text Only, Text and Image, Analog Clock, Digital Clock, or you can design your own
Realme UI 2.0: How to design my own Pattern on Always-On Display
Following
Go into Plus Icon (+) in the top upper right corner
Now you will see three options – Custom Pattern, Text Only, Text & Image
Custom Patterns

Choose Colors, Paintbrush, Shapes from the bottom
Now move your finger on the screen, the design will change your finger's movements
Text Only

Enter your text – Example, RM Update
You can also choose, Text Colors, Alignment, Text Size, Text weight, Character spacing, Line spacing
Now select what do you want to add with AOD – Time, Date, Battery, Notifications (If the icon highlighted in White color so it will visible with always-on display)
Text and Image

When you select this option, first choose your image from the gallery.
After that, you can write the text like above "Text Only" section
You can choose, Text location – Upper, Center, Bottom
And can customize select image – Blur and Rounded Corner
Realme UI 2.0: How adds Clock on Always-On Display
In the Always-On Display section
Swipe up and go into Analog clock or Digital Clock
Currently, 6 Analog and 12 Digital clock is available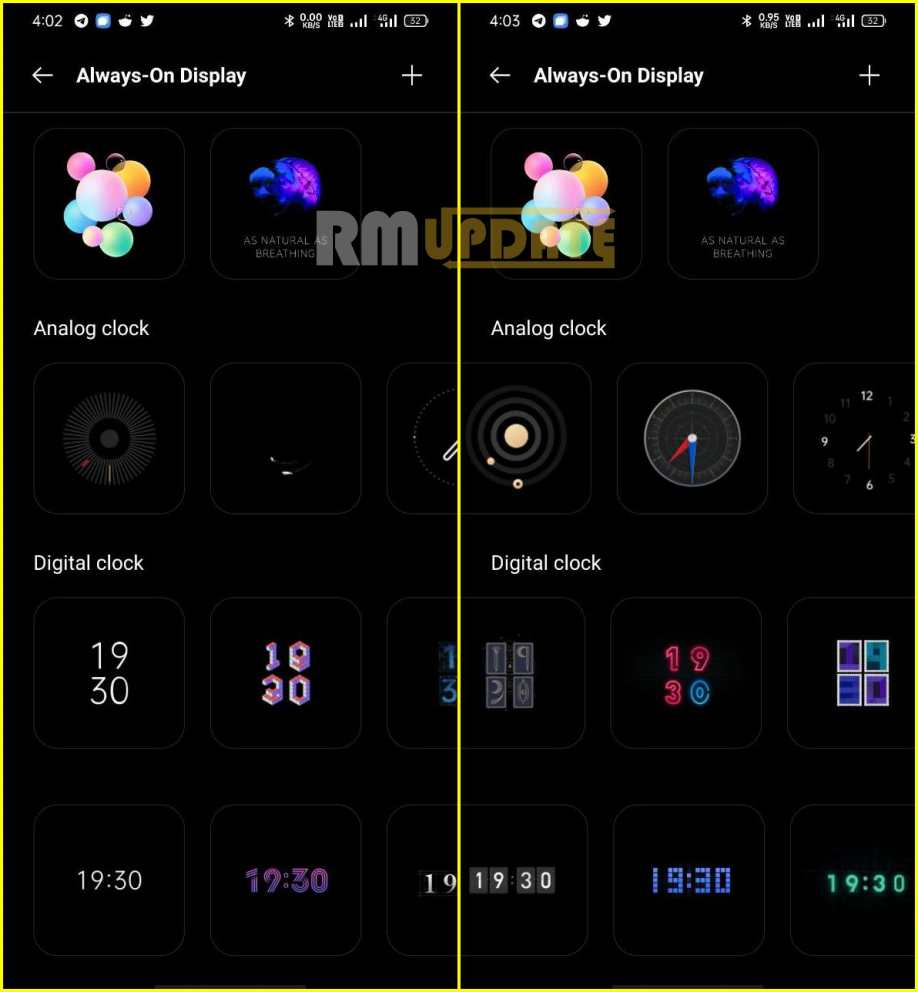 Note:- However, it's available for certain Realme phones with AMOLED displays.
If you like this article follow us on Google News, Facebook, Telegram, and Twitter. We will keep bringing you such articles.