Realme
Realme X7 5G gets stable Android 12-based Realme UI 3.0 update in India
Updated in India – Finally, the wait is over, the company officially announced the Android 12-based Realme UI 3.0 for Realme X7 5G in India. The roll-out is released in batches and will reach you soon, kindly wait for it.
These 38 Realme devices have received the Realme UI 3.0 update
The latest major software update is ready to float in India with the firmware version – RMX3092_11_F.04. Maybe the company will release it in other countries' markets soon. It's also mandatory for the users that your device has to be required a UI build number – RMX3092_11_C.11 for installing the latest software update.
After installing the update, the user experience is more fluid & more secure than ever before! It introduces a refreshing look with Fluid Space Design and Sketchpad AOD, new features to help protect your privacy, and improvements across the entire system to make your Realme smartphone experience faster, more fluid, and more fun!
These Realme's Flagship Devices Won't Get Android 13 Update [Realme UI 5.0]
Find the complete changelog below:
New design

The all-new design, which emphasizes a sense of space, deliver a simple, clean, and comfortable visual and interactive experience.
Adds Smart Assistant widgets that show key information of apps and provide instant access to functions.
Revamps the page layout based on the principle of reducing visual noise and spacing out elements and prioritizes information with different colors to make key information stand out.
Redesigns icons using new materials to give more depth and a greater sense of space and texture to the icons.
Optimizes Quantum Animation Engine: Quantum Animation Engine 3.0 implements the concept of mass to make animations more lifelike, and optimizes more than 300 animations to bring a more natural user experience.

Convenience & efficiency

FlexDrop is renamed as Flexible Windows and is optimized:
You can now drag a file from My Files or a photo from the Photos app to a floating window.
You can now double-tap the text in a conversation in the Messages app to enlarge the text for easy reading and editing.

Security and privacy

Privacy-related functions including Privacy protection, Passwords and Emergency call can now all be found in Phone Manager.

Performance

Adds Quick launch, a feature that detects the apps you use frequently and pre-loads them so you can open them quickly.
Improves the responsiveness of turning on or off Wi-Fi, Bluetooth and Airplane mode.

Games

In team fight scenes, games run more smoothly at a stable frame rate.
Reduces the CPU load average and lowers the battery usage.

Camera

You can now decide which camera modes are displayed on the menu bar and in what order they are displayed.
You can now drag the zoom slider to zoom in or out smoothly when shooting a video using the rear camera.

System

Optimizes the auto brightness algorithm to adapt screen brightness to more scenes for a comfortable screen reading experience.

Accessibility

Optimizes accessibility:
TalkBack supports more system apps including Photos, Phone, Mail, and Calendar.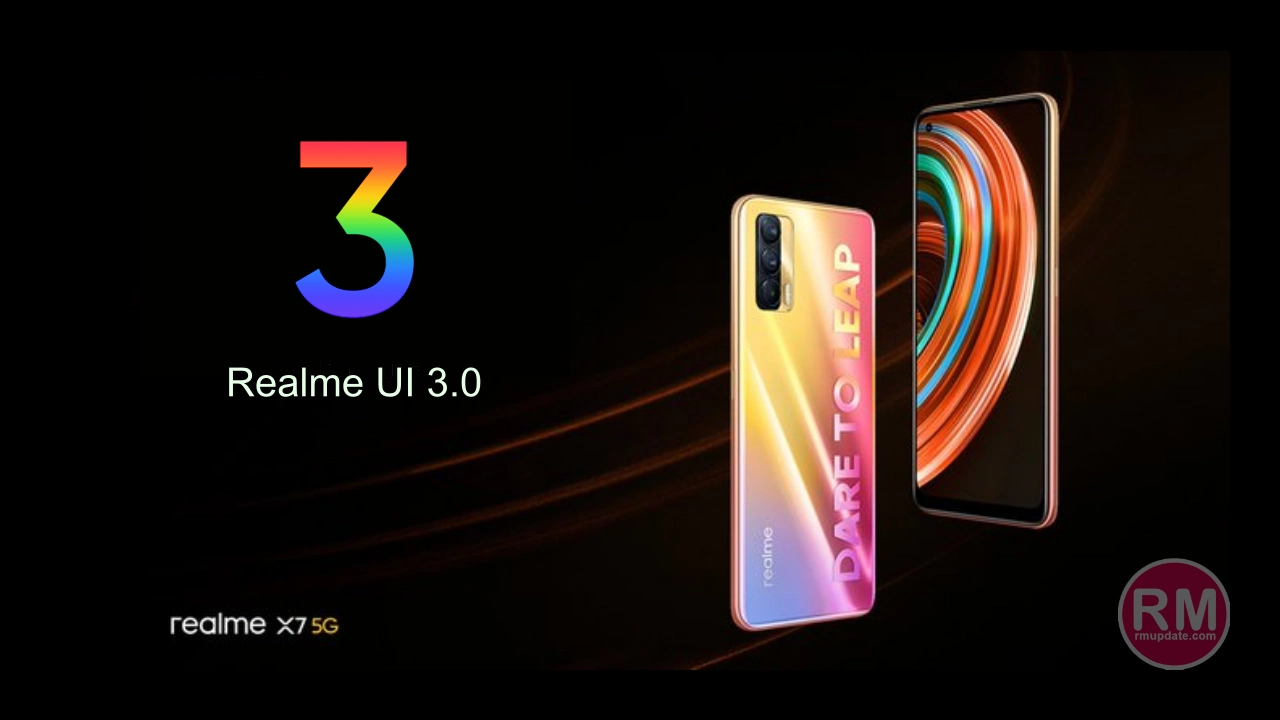 Realme UI 3.0 For China – 27th June
Realme X7 5G has started receiving the stable Android 12-based Realme UI 3.0 update in China, bring you a more personalized, efficient and smoother play experience! And it will soon expand in India, so wait for the OTA.
The Realme UI 3.0 update is rolling out on firmware version F.04. You can see complete changelog here
Previous Story – May 31st
Open Beta – Realme announced the Open beta program of Realme Ui 3.0 skin for Realme X7 5G in India and for Realme V15 in China. The latest Open Beta version will be chosen as the stable version and rolled out to all users, there is no difference if you have already joined the Open Beta program.
If you are interested so can participate in the Android 12-based Realme Ui 3.0 beta program from Settings > Software Update > Tap on the settings icon in the top right corner > Trial Version > Submit your details > Apply Now. Make sure your device update to required version: RMX3092_11_F.03.
Early Access Beta- April 25th
After opening the beta program for some devices in order to test the final version of Android 12 with its Realme UI 3.0, Realme has added the X7 5G to the list of upgradeable smartphones.
According to some posts on Realme's community forums, the company is inviting Realme X7 and Realme V15 5G users to try the beta version of the latest Android 12 -based Realme UI 3.0. In particular, both devices would be getting a limited access build. To see if your device is compatible when starting the beta program, just follow this guide.
Finally, Realme did not specify whether the beta program is restricted to users residing in a specific geographical region or not.
Early Access Application:
Make sure your Realme X7 and V15 5G has a 60%+ battery.
Update your device to the required UI version → RMX3092_11_C.10 or C.11 for Realme V15
Apply for the Early access via the Software Update Application channel:
Settings → Software Update → Tap on the settings icon in the top right corner → Trial Version → Apply Now → Submit your details and finish the quiz.
"If you like this article follow us on Google News, Facebook, Telegram, and Twitter. We will keep bringing you such articles."