How To Use Gmail's Meeting Scheduling Feature?
Gmail offers several interesting updates and enhancements, which help provide users with a better and more convenient experience. In contrast, Google has recently added a new functionality to its Mail service, Gmail. Gmail gets certain new features that will help users schedule meetings faster and more conveniently. This interesting feature is the Meeting scheduling feature. Google has integrated Google Calendar within Gmail, allowing users to create and share an event with anyone from within Gmail.
Users will now see a new Calendar icon on their Gmail page through this latest update. This Calendar icon will offer two options: Create an event and Offer Time you are free. The Create an Event feature allows users to create a Google Calendar event with the email. The Offer time you are free is the newest addition, which allows users to select and insert the meeting times from their Calendar into the email without leaving Gmail.
Meanwhile, Scheduling meetings is very daunting, especially when you are busy with work. That's where you can use Google's new Gmail Meeting Scheduling feature, which will help you save Time and energy just by heading to your email inbox without even going separately to open Google Calendar.
How To Use Gmail's Meeting Scheduling Feature?
How to Find Time to meet in Gmail?
Either compose a new email or open any recipient's email to reply to someone you want to meet, and click on the three dots menu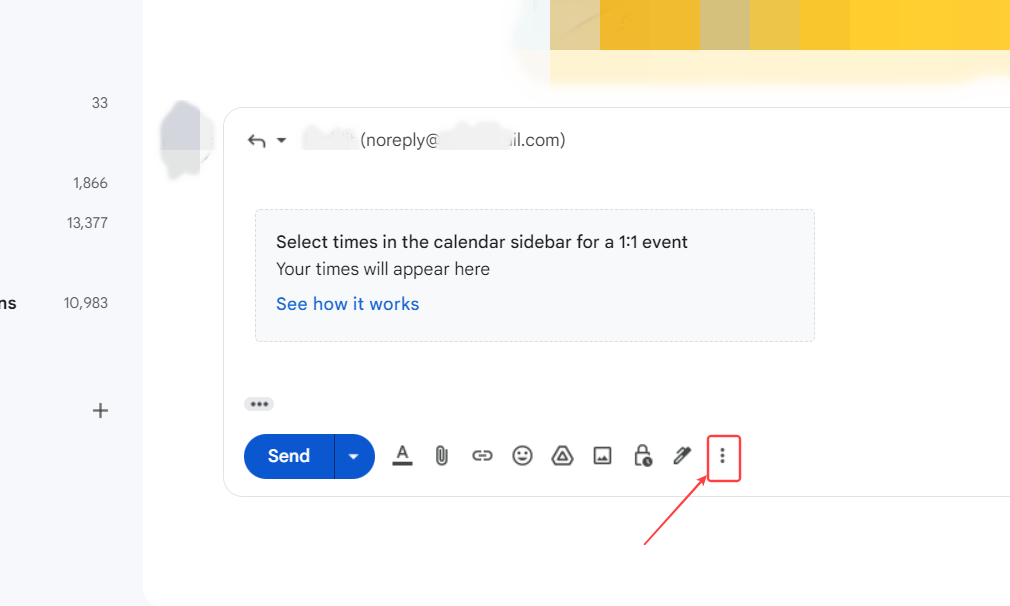 Now tap on the Calendar icon at the bottom of your message, and hover over the Set up Time to Meet option.
Then choose Offers times you are a free option.
Your Calendar will be opened as a pane on the right-hand side of the email. Here, you can select one or more open time slots per your requirements.
From the Calendar pane, you can add multiple time slots per day or add time slots on different days.
Apart from the Finding Time to Meet feature, you can schedule meetings directly from your Gmail using two ways. The first one includes that you can create an event from any email present in your inbox; once you have selected an email, search for the dots icon at the top of the inbox and then click on the Choose event option.
If you like this article follow us on Google News, Facebook, Telegram, and Twitter. We will keep bringing you such articles.